Raised Timber bed kits
The One Stop Shop for family Kitchen Gardens in Sevenoaks and surrounding areas in Kent.
Complete Raised Timber planting bed kits include Organic Compost and Free Starter Seed Packs at the click of a button!

... In 4 easy steps
Step 1 - Simply measure the area in which you want the bay to be located then select and order from our variety of designs and sizes.
Step 2 - Prepare area - weeding thoroughly
Step 3 - Simply assemble the bed and fill with organic peat-free compost and plant your little seeds!
Step 4 - Bespoke Timber Beds available upon request. Please contact us!
Timber Bays are constructed using 6" x 2" pressure treated sawn soft wood timber, with predrilled holes for easy assembly. Using a substantial width of timber ensures a strong resilient structure to last. However if you're looking for a more economical but practical and durable kitchen garden we supply "economy" bays using 6" x 1" timber.
Every garden is unique so by measuring and selecting the bay to fit you'll have a custom made vegetable garden at a fraction of the price.
Little Seeds provides a unique hand-crafted hand sawn raised timber bed service.
I am a busy working mum of 2 and whilst I have always inherently grown my own vegetables, educating my children to understand that veg. doesn't come pre-packed from the Supermarket! I simply don't have the time to spend sawing and making the Raised Timber Beds that are so now "en vogue". That's when I devised this quick, hassle-free on line service.......
It means that I can then get on with what I love doing most, sowing seeds and harvesting the crop with my 2 children, who love getting stuck in too.
Even the smallest garden can house a raised bed. So that your little ones can "pick their own".
Let's Get Digging!
Wendy x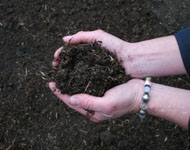 Its easy to order compost online.
Simply tick the box - amounts are all pre-calculated.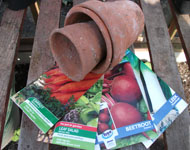 I will send a selection of free seed packs with every order.